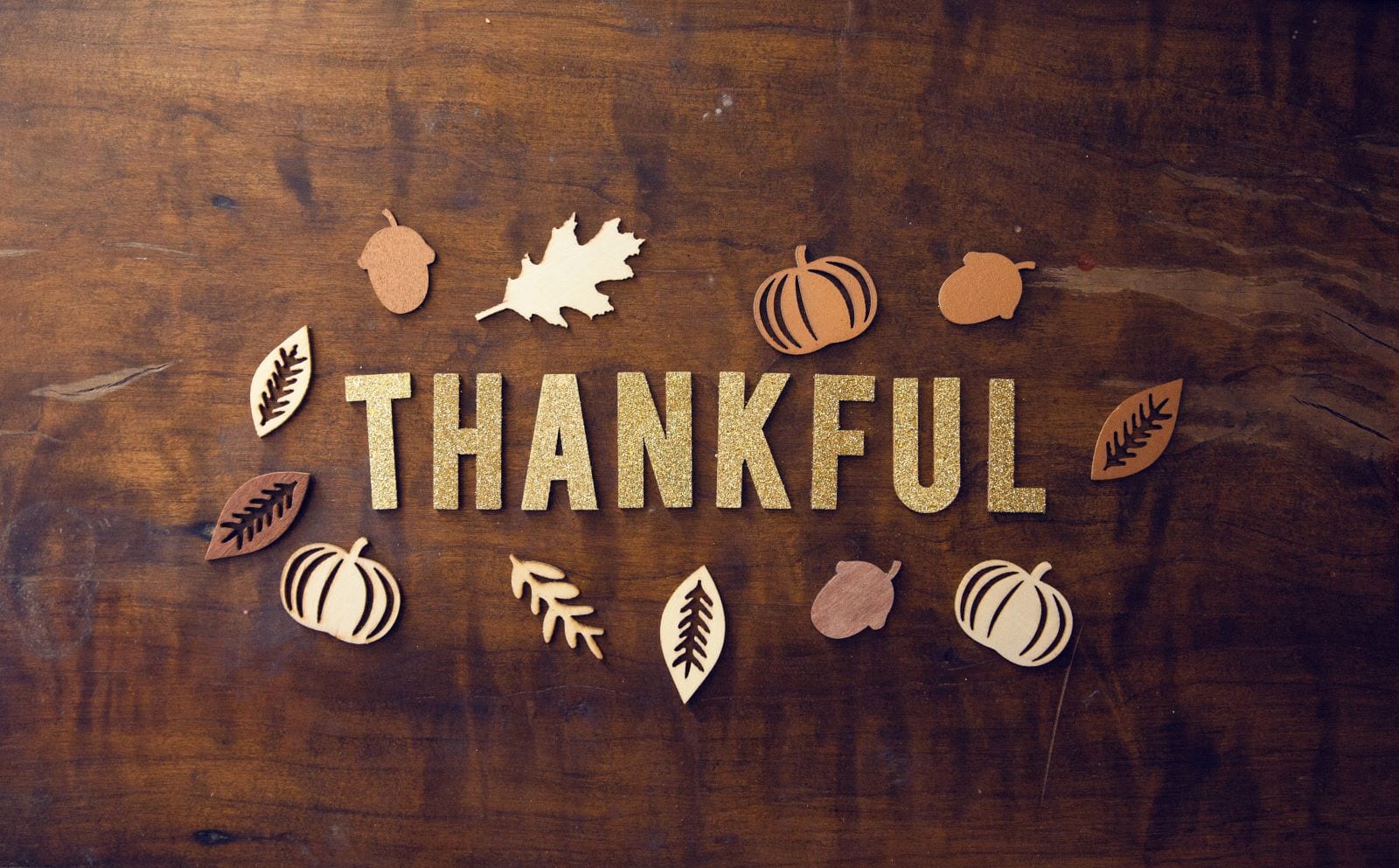 We're continuing with the festive spirit over here at Web Symphonies and that means this month we're getting into gratitude in honor of Thanksgiving. I know the holiday itself is problematic but giving thanks is always welcome. As a Charlotte web design company, we've compiled a list of eight web tools that we're grateful for. We think you'll like these too, especially if you're a small business owner.
1. Wonderful WordPress
This year has highlighted how important the internet is. Without a website or some sort of web presence, it's difficult to keep in touch with customers and clients. Keep in mind that 10 years ago advisory group BIA said nearly 97% of consumers use the internet when researching products and services. You're probably asking, "What's the percentage now?" That's a great question. I did some digging and came up empty handed. However, I think it's safe to say the percentage is high and that means a web presence is crucial.
It's no secret we're fans of WordPress – and with good reason! WordPress runs 35 percent of the entire internet. It's flexible, versatile, and can be tailored to your needs, whether that's creating a business website, or an online store. Plus, it's simple to use and can scale with your business as it grows. First and foremost, we're grateful for WordPress.
2. Winsome WooCommerce
Especially as businesses navigate what it means to operate during a pandemic, e-commerce software is all the more important. When selling in person is not an option, selling online is. Plus, e-commerce is available 24 hours a day! We have two recommendations for e-commerce. The first is WooCommerce.
It's a WordPress plugin (see? WordPress!) that has basic features that can help you manage sales, payment, shipping, and other common tasks. It's completely free and has extensions that are also budget-friendly. Those extensions help with functionality if you find the basic features aren't inspiring you with thankfulness.
Similar to WordPress, WooCommerce is scalable, meaning you don't have to worry about your business growing – the plugin will grow with you. And it's secure, which is crucial when it comes to handling money. If you find you want help setting up your e-commerce store, get in touch. We're N.C. web designers but we handle more than building a website.
3. Stellar Shopify
Another e-commerce tool we're grateful for is Shopify. It's a subscription-based platform that's easy to use, especially for beginners. It has a "guru" service to guide through creating and managing your online store in case you're a do-it-yourself-er.
Shopify is a large e-commerce tool and because it requires a monthly subscription (for as low as $29 per month), Shopify gets a gold star for its performance. It integrates well with most websites and has an app store where you can download add-ons such as social media and shipping. Plus, if you find yourself in trouble, or you just don't know what you're doing, Shopify has an extensive help center offering troubleshooting guides as well as live support.
4. Hooray for HootSuite
OK yes, social media is getting a bad rap for the way it's changing our behavior, but the reality is people still use it and it's a great way to build your business. If you want to reach customers you haven't reached before, social media allows you to interact with them directly. However, managing social media can be a headache. In addition to web design, we also specialize in internet marketing so we know what we're talking about.
We recommend a few tools to handle social media. The first is HootSuite, which integrates with Facebook, Facebook Pages, Twitter, Instagram, LinkedIn, YouTube, and WordPress. You can schedule posts ahead of time and manage all of your platforms from one location. HootSuite also allows for collaboration with members of your team and means you don't have to worry about giving every person a password to each social media outlet. Instead, they use HootSuite and then they're golden. Furthermore, HootSuite notifies you if someone mentions you on social media.
5. Bodacious Buffer
Similar to HootSuite, Buffer supports up to 25 social accounts and allows you to schedule your content in advance. Plus, it offers analytics so you can determine which tweets performed best and when, for instance. In fact, Buffer keeps track of your followers so you know when it's the optimal time to post. A little creepy, but also effective. . .
6. Helpful HubSpot
We help with internet marketing not only in Charlotte but in other places too (the beauty of an online business!). If you're looking for a free marketing tool, we recommend HubSpot, which is also a WordPress plugin (WordPress again!). It helps you keep track of potential customers and assists with lead conversion, meaning transforming someone browsers into buyers.
HubSpot creates a pop-up invitation to grab e-mail addresses and can pull information from any form submission on your website. (If you have no idea what we're talking about, reach out – we're happy to elucidate.) It also tracks other websites your potential customers are visiting and provides analytics. What's working on your website? What's not? HubSpot knows! It instructs you how to target marketing emails to bring your customers back and best of all it's simple to use.
7. Golden Google
We'd be remiss here if we didn't mention Google – it's a tech giant for a reason. Google Analytics is one of the most commonly used tools. It's free, it's trusted, you know it works. The tool offers numerous data collection options with excellent documentation and extensive knowledge bases. Plus, it has tools to improve your search engine optimization (SEO).
A part of internet marketing is SEO – we can help with Charlotte SEO, North Carolina SEO, U.S. SEO, etc. Along those lines, our final recommendation is:
8. Superb SEMrush
SEMrush is used by 5 million marketers around the world and gives a lot of bang for the buck. There's the SEMrush Competitive Positioning Map that shows you your direct competitors. It offers a keyword research feature that makes it easy to identify the best SEO keywords for your business. And it provides so much helpful information like the number of results and trends to help you with your SEO plan.
Are you looking to expand? Perhaps into a new market? SEMrush has a market explorer tool that gathers in-market audience insights and analyzes that new market for you so you can make a more informed decision.   
So there you have it, our eight favorite web tools. We're grateful these exist, but mostly we're grateful for you. We wouldn't be in business without you so just in case we haven't said it recently, thank you.
Check out our free web marketing tools plan that every marketer should know about and use. To more call us (704) 336-9113